What Is Junior Kennel Club
The Junior Kennel Club offers fun classes for the children ages 7 to 15 years. Our qualified instructors teach obedience, tricks and some agility in the 6 week class. We also offer junior handling for children that want to compete in dog shows. This is a great place for our youth and their pets to have fun!
Parents must remain in the training facility while their child is in the class. Dogs must be size and age appropriate in order for the children to handle them. The safety of all children and dogs is a priority!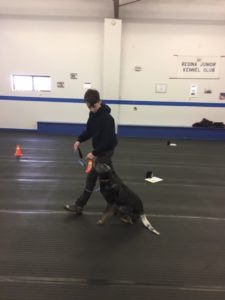 Classes are run for six weeks and are one hour per week. The fee is $50.00
To register or for more information, please email the training director at Training@reginakennelclub.ca or call 306-359-6909.